Medical Reviewed by Sindhu Vas, Post Graduate in Nutrition and Food science
Reduce Thigh fat is one of the worries when it comes to health, appearance, and weight loss.
There are different types of fats depending upon their areas of fat concentration, like face fat, belly fat, thigh fat and likewise.
Usually, fat accumulation and concentration is more around the belly(tummy), hips, face, thighs etc.
Diet to reduce thigh fat  |  Exercise to reduce thigh fat  |  Diet chart to reduce thigh fat  |   Food to avoid to lose thigh fat  |  Self-motivation |  Minimum physical activity
Targeted Weight Loss On Thighs
Although, targeted weight loss around particular areas such as hips, belly, thighs etc., is difficult, here we would like to discuss about weight loss with the concentration on reducing thigh fat.
Fat concentration is high on thighs. As far as appearance is concerned, you may look clumsy. It is a sign of excess weight when it comes to health & fitness.
Get FREE Health Consultation Today!
It is a caution for many health disorders such as Obesity, Lipedema, hypertension, fatigue, weakness, depression & and other disorders due to excess weight.
The accumulation of fat mainly depends on the lifestyle, food habits, lack of nutrition food, unbalanced diet, lack of physical activity and as such.
Hence, Methodical attention to these will help reduce thigh fat naturally and fast. To make it easier for you, the information on this blog will help you towards reducing thigh fat.
6 Easy Ways to Reduce Thigh Fat
As we discussed in the earlier section, methodical attention is required to lose weight. Here are the important tips to include in your methods to lose fat on thighs.
1. Nutrition Food and Diet To Reduce Weight & Thigh Fat.
It's important to know the nutrition foods that aim at reducing weight.
As we've discussed earlier, efforts to reduce overall weight will, in turn, reduce weight around thighs. Here are a few of those to help you out.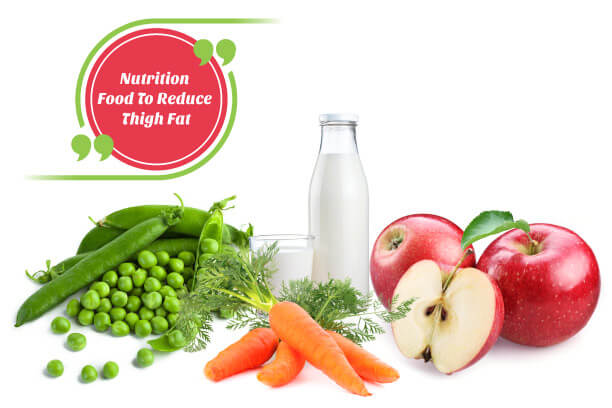 -Eat Protein-rich foods such as fish, lean chicken, cheese, yogurt, milk, beans, eggs, Nuts and seeds with protein such as pumpkin, squash, watermelon seeds etc.
Include legumes like peas, beans, lentils into your diet as they are high on protein, fiber and other beneficial nutrients.




Eat fiber-rich fruits and vegetables such as berries, potatoes, apples etc. Fiber lets your stomach feel full which in turn, reduces food intake.




Consume low cholesterol foods such as whole wheat varieties, carrot sticks, apples, blueberries, oats, barley, soya food, sweet potatoes, nuts, sweet potatoes, broccoli etc.




Use oils with less saturated fat like mustard oil, rice bran oil, canola oil etc.
Check out this video to know about protein food sources.
Recommended read:  42 weight loss foods which will help you in weight loss around thighs, hips, belly and overall weight.
2. Exercises To Reduce Thigh Fat with Overall Weight.
Exercising with proper balanced diet will help lose thigh fat and also to reduce overall weight. These exercises include leg exercises and workouts, thigh exercises.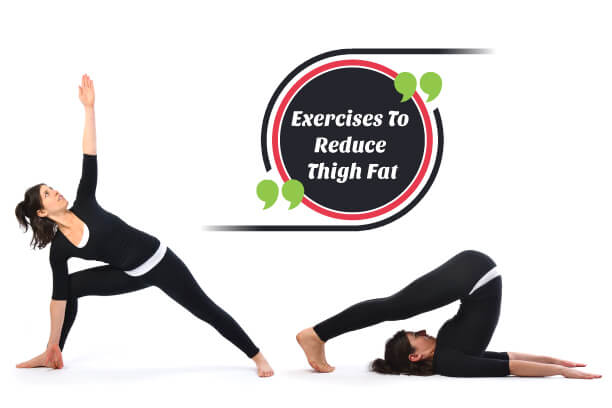 Yoga – The following are certain leg and thigh exercises of Yoga: boat pose, locust pose, upward dog pose, triangle pose and plough pose.
The above image shows triangle pose and plough pose which are more effective for losing thigh fat.
– Split squat exercises are good leg exercises to reduce fat in thighs and hips.
– Leg toning sitting postures and similar exercises are good for thighs and legs.
– Discreet office chair workouts with special thigh exercises, leg exercises.
Watch this video for discreet office chair workouts.
– Furthermore, Basic exercises like walking, running, jumping, jogging are essential to lose thigh fat.
Visit our page that gives more information on weight loss exercises at home.
3. Diet Charts To Lose Thigh Fat
It's recommended to follow a regular diet chart that is prescribed by a certified nutritionist. As different individuals have different classes of food preferences and habits, it is important to get customized diet plans.
Specialized and customized diet charts are also essential since people differ in their health and weight characteristics. Here are a few popular diets:
– Calorie Diet (1200 calorie diet)
– Paleo Diet
– Protein Diet (intake of Protein foods for weight loss around thighs and other parts of the body.)
In addition, Other well-known diets are Salt diet, Cholesterol diet, Dash diet etc.
Read our blog-page to know about balanced diet plan which will help you with thigh fat or overall weight reduction.
4. Avoid The Following To Lose Thigh Fat.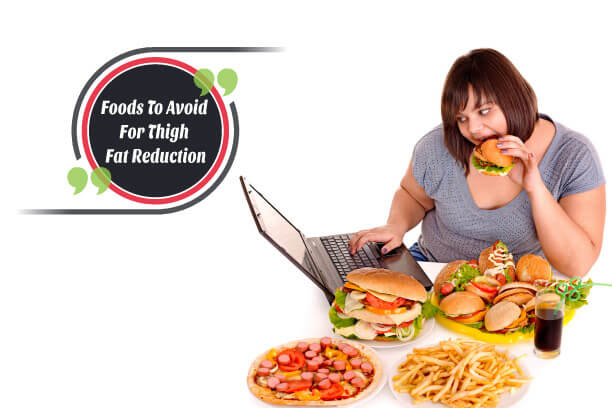 – Processed food.
– Junk food.
– Food with excess fat such as salt, sugar, oil etc. – Meat with fat contents.
– Habits like sitting at one place with very little physical activity.

5. Self-Motivation.
Self-motivation is required towards the following:
– Nutrition,
– Diet
– Exercises
– Consultation with expert dietitians
– Minimum physical activities
– healthy lifestyle
6. Minimum Physical Activity.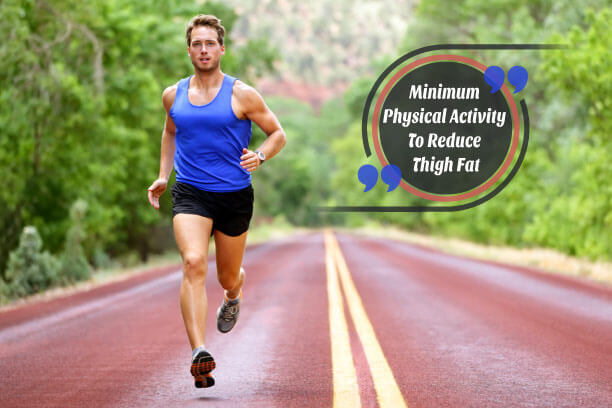 Required minimum physical activities include
– Walking,
– Jumping,
– Running
– Other simple activities as such.
In conclusion, After reading through this blog, we hope you have made up your mind to reduce thigh fat with the above six useful tips. So what are you waiting for?
Change your lifestyle with the above tips to lose thigh fat naturally fast. One of Possible nutritionists, can help you out with this. 
Get FREE Health Consultation Today!