Medically reviewed by  Dr.Shanmukha Priya, M.Phil and Ph.D. in Food Science and Nutrition
Due to the low-fat content, these foods prevent risks against heart diseases and different health issues [1]. 
Low fat foods are the healthy alternatives that prevent you from gaining saturated fat and cholesterol.
Table
of
Contents
There are foods that have high-fat content but are also available in their low-fat food versions.  These are like mayonnaise, milk, salad dressings. 
Therefore, we bring you a list of low-fat foods as well as foods high in fat content which should be avoided.
As fat contents are one of the main reasons for overweight issues, opting for low-fat foods add to the steps towards improving overall health and fitness and primarily help with your weight control and weight loss goals.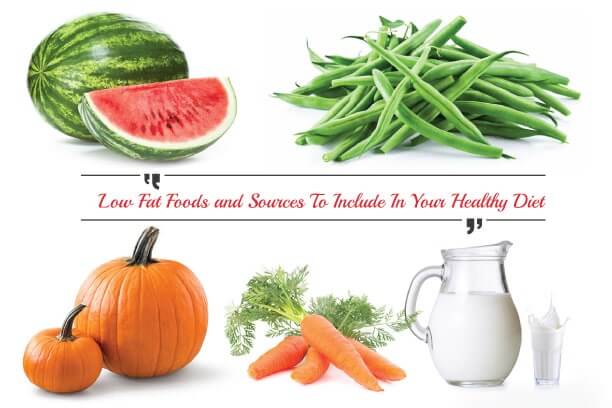 20 Healthy Low Fat Foods
Fats are generally considered as concentrated source of energy and too much consumption of fats leads to increase body's fat which in turn results in overweight, obesity to other lifestyle diseases such as diabetes, hypertension, high cholesterol and so on.
Going on a balanced diet with low fats  will help in reducing weight as well as gaining good health. The low fats foods are usually low in calories and hence help in reducing weight.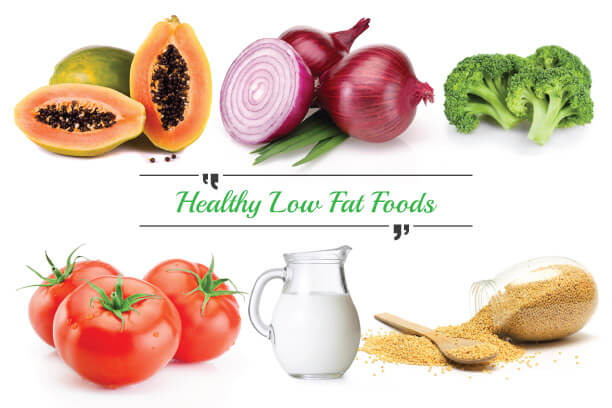 Few good sources of healthy low fat are:
Pumpkin Seeds-

Pumpkin Seeds are good sources of essential Nutrients and Fiber. They are high in antioxidants which helps in reducing risks of certain cancer, improves the heart health and lowers the blood sugar levels.

Virgin Olive Oil-

Olive Oils provides us healthy fats which protects  from the heart related diseases. It also helps in lowering type 2 diabetes risks.

Flax Seeds-

Flax Seeds are rich in Omega 3 fats which lowers the chances of strokes as well as cancer risks.

Walnuts & Almonds-

They are also highly antioxidant in nature which helps in controlling blood pressure and improves good cholesterol in the body.

Broccoli-

Broccolis are low in calories and high in vitamins & minerals in addition to fiber. It improves the digestive system and lowers the bad cholesterol.

Tomatoes-

Tomatoes are full of carbs, fibers, essential vitamins & minerals which helps in improving heart health, reduces cancer risks and purifies blood.

Sweet Potatoes-

They are good source of iron & calcium and rich in vitamin B as well as C. These Vitamins and Minerals helps in promoting healthy digestive system, manages diabetes, improves eyesight as it is rich in Beta carotene, the provitamin A.

Spinach-

They are also rich in Vitamins and Minerals. It helps in decreasing oxidative stress, improves eye health, aids in cancer prevention, helps in regulating blood pressure level.

Cucumber-

Cucumbers are highly nutrient in nature which helps in keeping the body hydrated as well as keeps the blood sugar low, helps in reducing uric acid, as well as losing weight.

Watermelons-

Watermelons are antioxidants which protects the body from Diabetes, reduces severity, frequency of asthma, also helps you to lose weight faster.

Blueberries-

They are low in calories with highly nutritious. It protects the body against aging, reduces cancer risks, lowers the blood pressure as well as cholesterol.

Papayas-

Papaya lowers the cholesterol, helps in weight loss, boosts your immunity, improves digestion, prevents constipation, helps in easing the menstrual pain as well as regularising the cycles and reduces stress.

Grapefruits-

Grapefruit is a tropical citrus fruit known for its sweet and somewhat sour taste. It benefits the immune system, promotes appetite control, helps in weight loss, reduces kidney stone risks.

Lentils-

Lentils are edible seeds which are of many types brown, red, green, yellow and many more, all are highly nutritious. They improves blood sugar levels as well as the blood pressure and helps in weight loss with their protein and fiber contents.

Beans-

They are the source of protein, fiber as well as vitamins. Beans are antioxidant in nature that makes it good for heart health, prevents fatty liver, controls appetite, improves gut health.

Whole Grains-

Dietary fibers from whole grains, as part of an healthy diet helps reduce blood cholesterol levels which may lower the risk of heart diseases. Whole Grains are full of protein, fibers and B vitamins.

Millets-

Millet known as wonder grains is a food staple throughout the world, and is considered as the world healthiest food as it is packed with nutrients. It helps in digestion, prevents asthma, clear up toxins, repairs body tissues and many more.

Skimmed Milk-

Skim milk is nutritious, it has the same nutrition as fresh milk. It provides bone building nutrients such as Protein, Calcium, Vitamin D & A. Skimmed milk do not contain fat which makes it healthy.

Cottage Cheese-

 It is a best source of Calcium which plays a vital role for tooth and bone building. It prevents osteoporosis, regulate blood pressure and also prevents prostate cancer.

Yogurt-

It is a natural probiotic rich in nutrients especially  Protein, it is beneficial for digestive system, strengthen the immunity as well as promotes weight management.
When following a diet for weight loss , try to include the said foods as , fats contain essential fatty acids, which is required for the absorption of fat soluble vitamins like vitamin A. D, E and K in the body.
8 Food Sources Of Unhealthy and Excess Fat
While there are fats which are healthy and essential as a part of the required minimum nutrition, there are fats which are unhealthy.
Saturated fats and Trans fats are unhealthy which have more calories that lead to weight gain.
Before we move on to the good low-fat foods, let's look at the most common unhealthy fatty foods.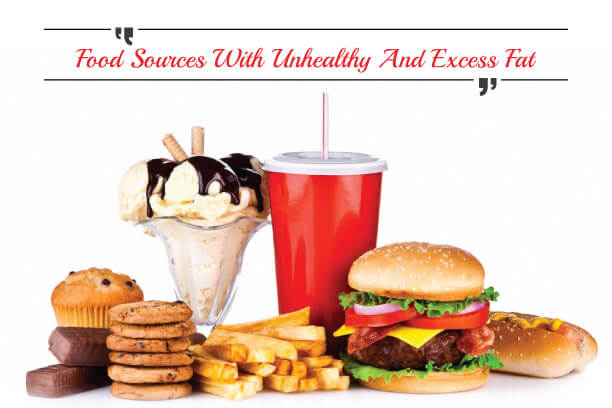 Meat products such as chicken, beef – they contain saturated fat and cholesterol that are major contributors to heart attacks, strokes,

diabetes.

 Dairy products with high fat like whole milk, cheese, ice creams.
Bakery foods such as puffs, cookies, pizza, buns, pastries – Bakery foods mostly contain refined sugar, refined wheat flour as well as unhealthy fat.
Junk food and processed food such as fried rice, fried Manchurians and potato chips, corn flakes etc. Research on street food with sampled oils revealed the fact that the tasty street food contains high levels of saturated fat and trans fat.
 Egg yolks – they contain dietary cholesterol that can be harmful to most of us.
Palm Oil – this oil is very high in fat, cholesterol that can lead to weight gain and hypertension.
Colas and Sodas – they have a high sugar content that can lead to Diabetes. Moreover, they are high in caffeine and contain artificial sweeteners.
Margarine – It is high in trans fat level that leads to heart issues. It is also found that margarine increases the levels of both bad cholesterols as well as total cholesterol.
Unhealthy and excess fat foods have good taste but have numerous disadvantages. They cause fast weight gain and various health risks.
8 Tips To Reduce Fat And Overall Weight
First and Foremost, Identify foods with high fat and low fat.

Consult a certified dietician or nutritionist to help you out with tip1.

Balanced Diet: maintain a well planned balanced diet with effective low-fat foods.

Maintain diet charts to make your diet more effective.

Avoid junk foods that contain more fat.

Avoid eatables with oil, ghee and other foods with excess fat.

Supplement your diet with exercise and minimum physical activities.

Prefer home food and avoid outside food.
Apart from causing overweight, foods with high fat also give rise to health disorders such as thyroid, obesity, type 2 diabetes, diabetes mellitus, cancer, dermatological disorders, cardiovascular issues, high blood cholesterol levels etc.
Hence low-fat foods are of high importance and should be a part of our planned diet and lifestyle with well-controlled food habits.
Hence don't just think about taste instead, think about health aspects. Consult one of our expert nutritionists to help you more on this. The first consultation is absolutely FREE.
Get FREE Health Consultation Today!
Quick Bytes

1. What is considered to be a low-fat diet?

A low-fat diet that contains negligible saturated fat or trans fat, low-calorie meals, low-calorie snacks, are considered to be low-fat diet.


2. What can I eat that has low fat?

You can eat fruits and vegetables as most of them come with low fat. Include low-fat foods that we have mentioned earlier, in your balanced diet.


3. How are low-fat foods related to low-calorie diet?

Most of the foods with zero calories or low-calorie foods are low in saturated fat or trans fat.

Eg: whole grain, millet, carrot, watermelons etc. Hence it's good to include low-calorie meals in your low-fat diet.
[sc name="subscribe"]